Peer Advisor Michelle offers words of wisdom on managing life and college with a little help from our favorite regional manager of a Pennsylvania, mid-size paper provider, Michael Scott.
With midterm season underway, this high-stress period may induce mini-existential crises. It is around this time when students reflect on how their semester is going. Some may be satisfied and ecstatic with the progress they have made, while others might be thinking "where has the time gone and what in the world have I even done?" To help guide this reflection in a more productive direction, I recruited Michael Scott for his expertise on life. Thankfully, he has a plethora of knowledge to impart on you all. So, here are some quotes from our favorite Dunder Mifflin Regional Manager applied to the context of GW life:
"You miss 100% of the shots you don't take. – Wayne Gretzky" – Michael Scott
This one is pretty self-explanatory. Don't be afraid to put yourself out there and try new things! If you always remain in your comfort zone, you might miss out. Note, you might think that I am referring to internships, but I am also referring to experiences in general. The Foggy Bottom bubble is very real. So, I encourage you to gather a group of friends (or go by yourself because solo adventures are also super fun) and visit the other neighborhoods of DC. District Connections or Facebook events are a great way to start your search for the many things happening around DC. Also, asking upperclassmen or professors works too!
Sometimes I'll start a sentence and I don't even know where it's going. I just hope I find it along the way.
This quote is most emblematic of Honors Origins. Many of you may be intimidated by your Origins professor because they are just so intelligent, and it truly seems like every word out of their mouth is the most profound idea you've ever heard. It's borderline Plato vibes. However, I promise that you will get more out of these discussion-based classes if you, wait for it, participate and discuss. All the professors are understanding and legitimately want to know what your perspective is on the topics. They won't shoot down your ideas or call you stupid. Instead, they'll follow up with questions to help you get a better grasp on the concepts and learn how to defend your ideas. It's a great place to practice your speaking and analytical skills.
I am running away from my responsibilities. And it feels good.
So, I would suggest not following Michael's lead and hopping onto a train to escape from everything. I know I went into college thinking I could do it all and flawlessly balance classes, social life, student orgs, an internship, etc. However, being busy in high school is not the same as being busy in college. I too have an issue with overcommitment and am known to run around campus from classes to meetings to events. But it is important to recognize your limitations and learn that it is okay to say no. Be intentional in your activities because putting in just enough effort isn't fair to that commitment or yourself. You should be fully engaged in the work you do because your time is valuable and should be put towards what you care about.
I-declare-bankruptcy!
Please budget your GWorld. I know it might seem like you have a lot of money and can afford that $8 Chipotle bowl or $5 Chick-fil-a sandwich, but it will add up. At the end of the first semester my first year, I had a friend who was running low on fund and ate instant oatmeal packets for breakfast, lunch, and dinner for an entire week… To avoid running out at the end of the semester, plan and budget right now by incorporating cooking into your routine or sacrificing that Peet's/Starbucks coffee. For example, try to utilize resources like the free coffee in the Honors Townhouse (BYOM: bring your own mug).
I understand nothing.
Ask questions! Don't be afraid to go to a professor's office hours when you don't know what's going on (but you can still go if you do know what's happening). They might seem intimidating but they're here to help you. You're paying for these classes, so why not get the most bang for your buck and take advantage of that resource? Additionally, you might not even realize you're confused until you unexpectedly get back an unfavorable grade. Sure, you might think "oh, in high school I only studied minimally," but study habits from high school aren't always transferrable to college work. You may have to adjust the way you study and that's totally normal and acceptable.
And I knew exactly what to do. But in a much more real sense, I had no idea what to do.
Three words: four-year plans. You've been tasked with mapping out your next four years here at GW and deciding what potential classes to take. It's a lofty assignment. You might think that you need to have everything figured out, but you don't! Sometimes we have no idea what we are doing next and that's okay. Remember, you've only been here for 6 weeks and still have so much time to explore your interests. Stay open minded and take each step, one at a time.
I am dead inside.
Imagine how tired we are. Midterms are here and you're getting minimal sleep, your body is essentially pumping coffee, and the dark bags under your eyes make you look like a panda (most likely minus the cuteness factor). Work is stacking up and fall break can't come sooner. But, even if you think you can hang on until fall break, don't push off self-care. Please remember to take a break because there is a limit to how much your brain and body can take. Overworking yourself will make you less productive, disorganized, and even more stressed. Plus, it's flu season and sustained stress without healthy habits increases your likelihood of getting sick. Take time away from your work to do a face mask, go to Helwell, spend time with friends, or whatever you need to de-stress.
Café Disco: Everybody dance now!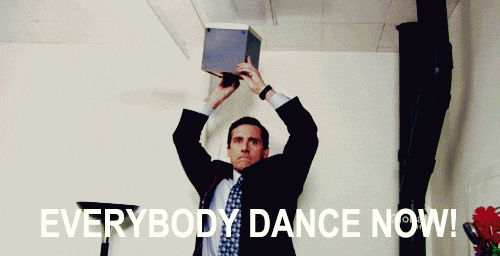 It's never a bad time for a dance party. When you are stressed out and can't handle reading another word of black text on white paper, pull out your speakers, play some upbeat tunes, and just dance. Get your body moving to recharge, build up that energy, then refocus with a more positive headspace.
Only thing that could make this day better is ice cream.
Ice cream is the solution to everything. Period. (p.s. everyone should try Jeni's ice cream)